Lanvin:
With the arrival of pre-fall collections several months prior and a sneak peak into what we would see during Autumn/Winter 2010, one of the most anticipated for me was whatever Alber Elbaz was concocting in his little studio full of whimsy perfection and whatever else it's like in there (I imagine flowers, rainbows and kittens... even though he's specifically stated before he watches news programs I can't help but imagining him rolling around with a plethora of kittens as he comes up with a concept... I envision it kind of like (well, exactly like) Jonah Hill in 
this video
) I've digressed from my point, whaaat else is new? My point is that there is so much elegant obvious beauty in the clothes he makes for Lanvin each season. For Spring the atmosphere of the runway was similar, a dark greyish air hung over the audience and the models as they trotted down displaying clothes in monochrome then big frilly frock dresses made from loose fabrics of varied colours swimming with form as if this tulle was one with the body. For Fall he took the mood and carried it further, deeper, to the point where the link between Spring and Fall was a blur and all that could be seen was a slight shade of darkness.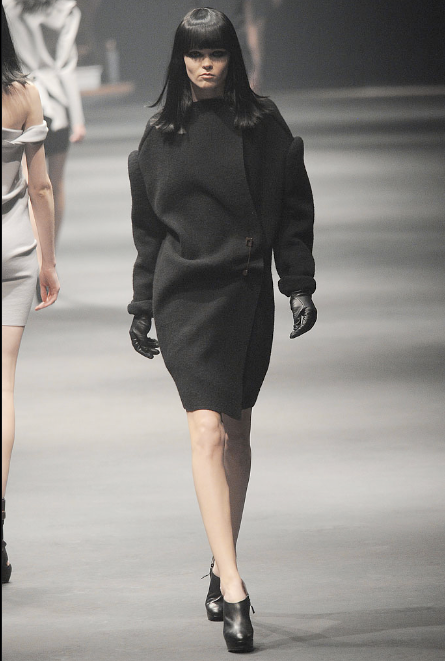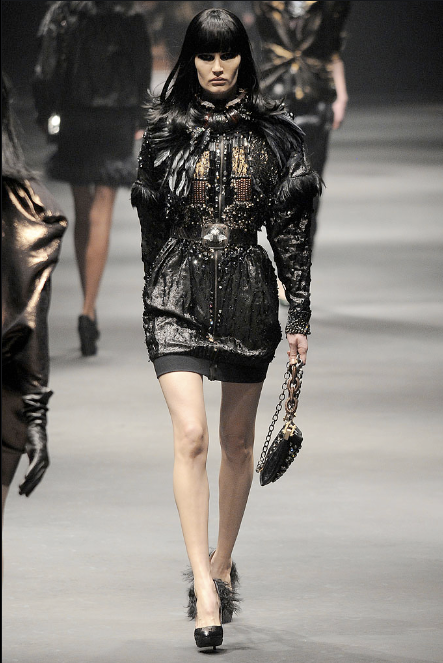 There was a juxtaposition he created with the structures tailored and molded against the body. This is an accordance only with his past collection, for Alber's clothes always seem to compliment the female shape (even the thick jackets somewhat oversized in certain proportions). There was a rebellious vibe exuding from both the clothes and the models, with the chain necklaces and metals and rough texture of the black dresses. Adding onto this would be the colour palette; which seemingly lacked any true pop of colour, only in deep reds and browns, as the black coincided with the atmosphere. And yet, with all this so apparent edginess, there was an elegance evident in the way the dresses creased into one side of the hip, the creamy nude gloves, the simplistic overly-feminine shoes, etc. It was good to see the subtlety of paradox in the collection. It was almost like he retained a touch of the Spring collection and didn't entirely translate himself (which, believe it or not, can work to one's advantage sometimes).
In my opinion I'm not really sure if I liked the Spring or Fall collection better, but I'm leaning a bit more towards Fall. I think maybe the Spring weather that's finally creeping up is taking a toll on my taste. My point is (do I ever have a point, really?) that Alber, you did good kid.