With the first few looks that had been sent out onto the runway for the Prada A/W 2010 collection, a vision of a scenario from the past came to my mind: a set of pleasant housewives making their way down stairs outside of their titanic home to their pristine vehicles, Lucky Strike in hand, determined to reach the cars before the cold began to bite their skin. In the 50s to 60s, when feminism (like many other controversial political topics) came to it's second crescendo, the modern housewife was almost a caricature of what a wife is; pristine, attentive, orderly, etc. These clothes capture that era of feminist indecision (think: Joan Allen's character in Pleasantville) but with a sultry touch, for as much as one seems to revisit past eras through reinvented designs, the influence of the twenty first century is almost inevitable. By this sense of influence I mean the flash of abdomen, patent leather, pointy bra formation, etc.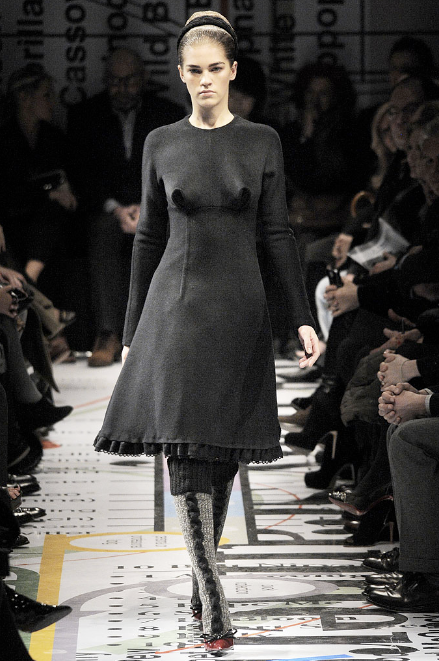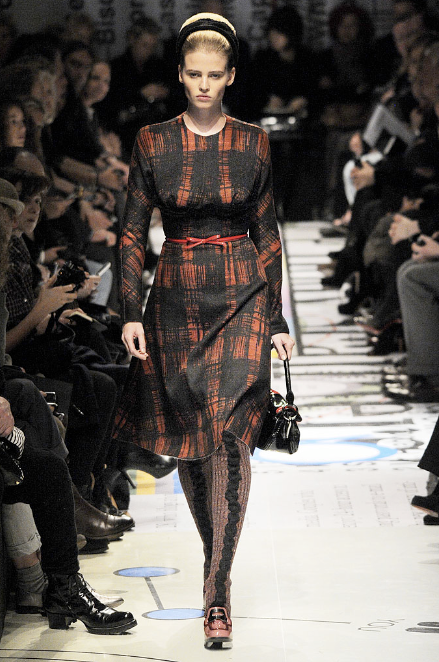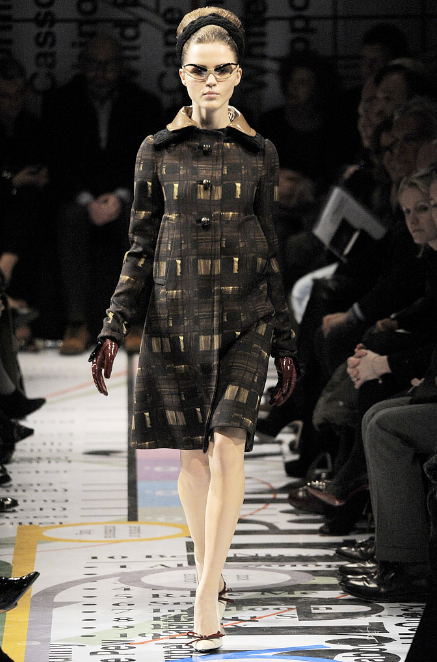 The clothes themselves definitely depicted the woman of that era, with wide, almost trapeze skirts and a cinched waist (a product of either small belts or tailoring) The coats of the same effect layered collar of knit over fur, with knit tights of beige neutrals adding to the sombre effect of housewives in the fall. The dresses (all of the pieces, actually) focused entirely on the female silhouette and bodily shape (something feminists typically objected against for sultry silhouette=sex) as a focus on breasts was through lace ruffles on most dresses or the exaggerated pointy bras on some of the coats, as breasts is one of the key pieces in creating the feminine shape of the woman.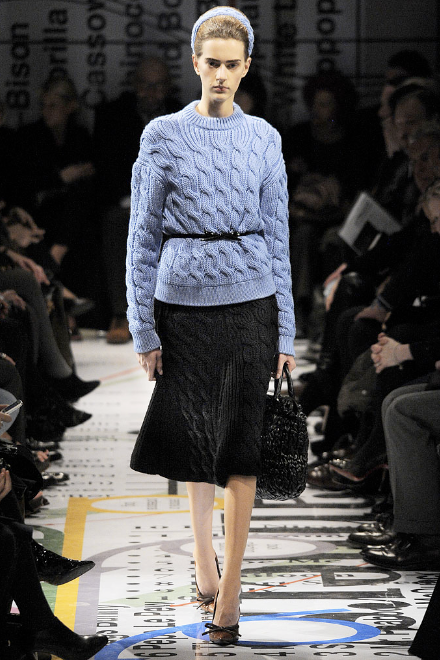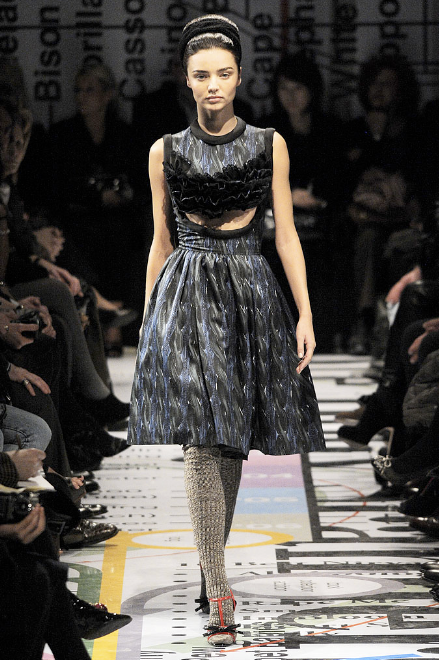 Miuccia Prada also brought her somewhat signature knits to the table with skirt and sweater combinations cinched at the waist, as well as nearly all of the tights she pieced together with the dresses. The black coats and dresses emblazoned with pristine embroidery brought a sense of lavish regality to the collection so similar to the meager housewives, like puppies to men aka their husbands (Pleasantville again), juxtaposing the concept with aesthetic. I was very fond of the abstract grid prints, and that although they had somewhat of an artistic demeanor, they brought a sense of feminine simplicity to the clothing, and gave silhouette a bit of a bite.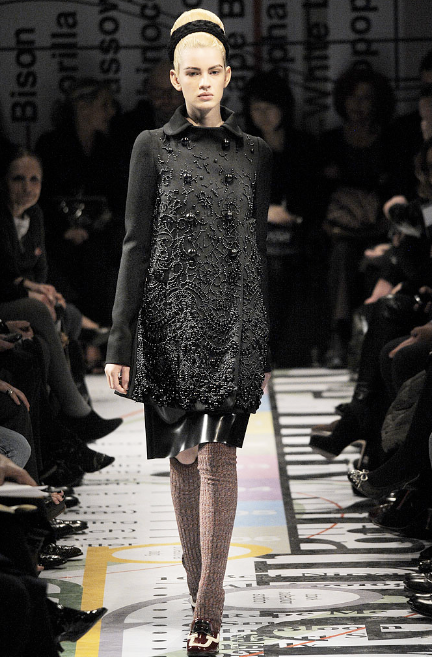 Again with reference to the 50s and 60s, Miuccia brought it particularly with beauty and accessories. For one, the lack of any make-up whatsoever and the tight, perfectly concocted up-dos brings me back to that era of the cliche stay-at-home wife. Also brought to my attention is similarities to Mad Men (although I've only seen a few episodes) and Pleasantville (the latter focuses more on 50s though so I'd say the first is more prevalent), that sort of fictionalized perfection of a meticulous housewife which exaggerates the notion of what they must be. Stepford Wives (not the Nicole Kidman one) comes to mind as well, but that concerns more notion than time era. The cat-eye glasses also took a twist with the addition of eyebrows, which adds irony and satire to the collection, and to be honest they remain a favourite piece of mine from A/W 2010.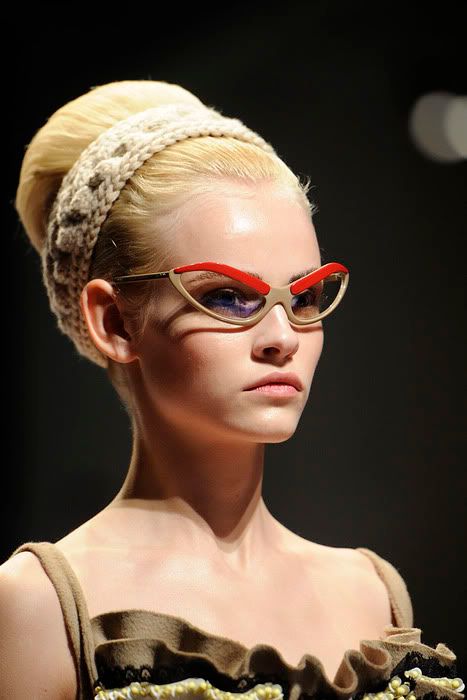 Also SHOES! As much as they fit into this cute, housewife grace again (and that's it's not particularly my cup of tea when it comes to shoe tastes) I particularly wouldn't mind owning a pair.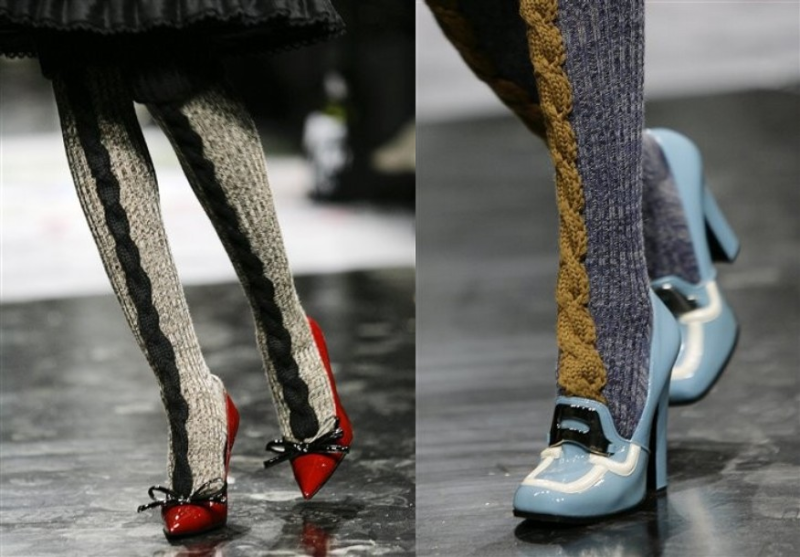 So what else can I say? I did very much like this collection because it brought back a classical set of clothes with tweedy knits and wide skirts and the rest. A commentary on the feminine role in the 50s/60s is apparent (if this is subconscious or conscious I'm not sure, because I haven't read any articles with her yet other then acknowledging she was going back to the stuff she did in the 90s) and brings back to life an era we thought dead, or in coma at least, considering that this stage in feminism seems to be a figment in comparison to what feminists are focusing on in this decade and the one that just came to pass.
Also MILES DAVIS SOUNDTRACK!
At least I think it was a jazz remix of Bitches Brew because the trumpets are the exact same. BB is one of my favourite songs of ever too, so I got extremely happy while watching the livestream :3 I sighed a lot, pretty much, because the clothes were awesome and music was awesome and I was just generally happy. (Also lol at confusing runway, it was literally a maze)
(All photos via
style.com
)