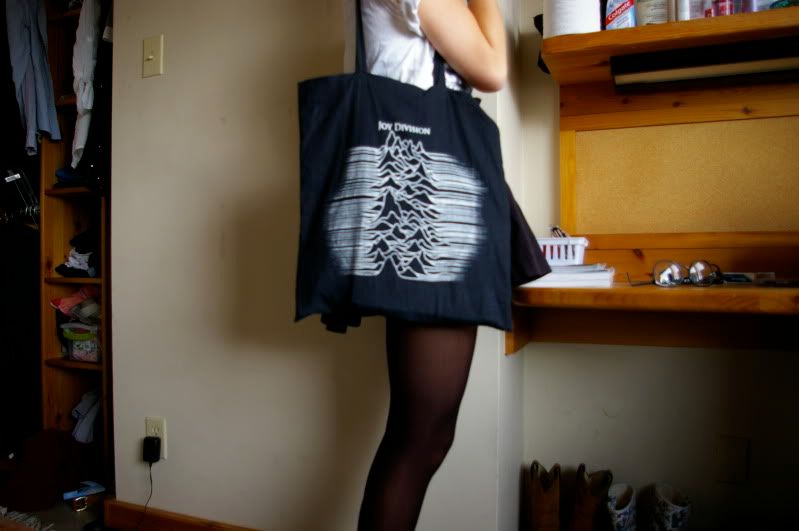 I'm not going to put up the picture of the inside of the outfit as a whole, don't ask me why. There's no mystery behind it to be honest, I just disliked the picture and what it depicted. Or something. Either way I didn't even unzip my jacket so you're seeing the version everyone else saw too. I'm just putting up the picture of the Radiohead shirt because I love it too much not to post it.
I'm going to make the rest of this post in bullet form since I like to be lazy and organized.
- I was reading the recent issue of
Dansk Magazine
the other day and one of the pages was dedicated to the term 'bahnhof chic'. The description was spot on of what I aspired to dress like just a while ago and semi-currently (I can see tinges of it in this outfit actually), and I'm not even going to try and recite it because I will butcher it entirely. If someone could help me out I'd love them forever. If not I'll probably edit this later as soon as I find out.
- In the same magazine the editor was complaining about the "awful techno beats" at the last Rag & Bone show, which made me laugh; Thom Yorke curated the playlist.
- Holt Renfrew is down the street from where I live and I walked into it several weeks ago (see: Yohji Yamamoto rage toon) but didn't spend much time in it. Recently I decided to go again and investiage further and oh sweet mother of god. I sat and pet Issey Miyake pleats for a good twenty minutes I assure you. And don't even say Balenciaga and Holt Renfrew in the same sentence or I'll probably cry. No wait, currently weeping, make that a definitely.
- I'm extremely jealous of Mary Baskett and her collection of clothing that mainly consists of Yohji, Issey and Rei's wearable art. There's a good interview with her
here
if you wanna watch.
Off to do some work now. And by work I mean watch Freaks and Geeks.
Leather jacket, Forever 21. Radiohead shirt, W.A.S.T.E. store. Skirt, vintage. Belt, vintage. Scarf, H&M. Tote, local underground vintage store.